This last week I was fortunate to have the opportunity to travel to Oslo. I spoke at the Making Sense event organized by the recently formed Nordic Network of museums and separately met with colleagues from the Munch Museum. It was a rich and fascinating experience.
The focus of Making Sense was 'art-based learning'. We heard presentations from the national museums of Norway, Sweden, Denmark, Finland, and Iceland on how they were exploring pedagogic methods that draw on artistic practice to connect their audiences more closely with art. The emphasis throughout was on moving away from didactic teaching towards visitor-centred, more playful, and enquiry-based approaches that seek to make the art museum a more inclusive space. As well as talk of artist-led and arts-informed pedagogy, there was acknowledgement of the values that inform this work. Presenters spoke of the need to allow for risk and uncertainty, whilst Anna Carin Hedberg from the National Museum in Oslo used the term 'trust-based interpretation' when describing the interventions in the collection display spaces that actively encourage visitors to connect with the works on show in multi-sensory ways.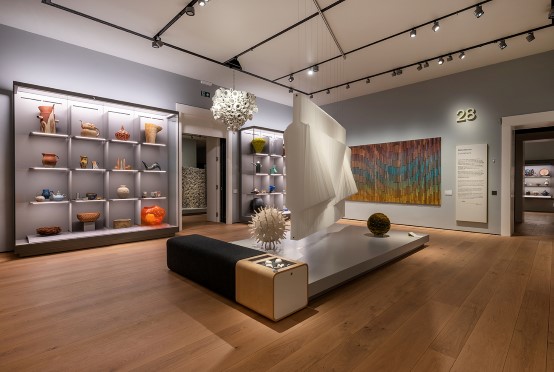 One presentation that resonated for me was given by Jonte Nynas and Johan Hildingsson from the Nordic Watercolour Museum in Sweden. 'Art promenade' is an art educational project aimed at care homes in the municipality of Tjörn where the museum is based that aims to make art accessible for elderly people who cannot visit the museum. The project started during the Covid-19 pandemic, working with the care-home residents, and has had various iterations, from an initial digital tutorial for residents, to providing in-person training for the care home staff and more hands-on workshops using watercolour techniques.
What struck me as Jonte and Johan were presenting was how genuinely exploratory and experimental their approach was. Working over a longer and seemingly unfixed time period, their process appeared to involve making an intervention (the digital tutorial for instance), then pausing, speaking to staff and residents, analysing and reflecting on what had taken place, considering what had worked well and what did not appear to be so helpful and then making a subsequent intervention to try another approach. This process happened several times as they reworked and refined the project to provide a fuller and more sustained experience for the residents and staff.
A similar highly thoughtful, yet experimental approach is being taken by colleagues working at the Munch Museum in Oslo in relation to their interactive gallery space on the 11th floor of the museum. This space is periodically given over to artists who work closely with Learning colleagues to design an immersive environment where children especially are encouraged to freely explore, create, and play. The first intervention in 2022 – 'The Brain Maze' – was created by the artist Jenny Bringaker and the team at the Munch are now preparing to open the second installation. In each case the aim is to support children and their families (especially those who may not be familiar with art museums) to feel welcome and to see the potential for art to play a positive role in their lives.
Before, during and after each installation the team engage in extensive planning, observations and audience research. They test out ideas with children as the installations are taking shape, review with visitors during the time the installation is active and undertake evaluation once the exhibition is closed. Crucially, as became apparent as I was speaking to them, the team analyse and reflect on this research with the artists and make changes to the installations as each work is being created. They also draw on their knowledge and direct experience to inform the next iteration of the programme. Thus, the project unfolds and responds, as opposed to being fixed from the start, with the programming team researching and learning as it progresses.
I titled this blog entry 'experiential programming' as the approach being taken in relation to these two projects reminded me of the Experiential Learning Model. This theory of learning focuses on direct experience, coupled with reflection as an effective way of generating new understandings. It is regularly represented as a circular process.
Experiential learning is at the centre of arts practice and therefore in many ways seems appropriate in the art museum learning context.  It is often what we museum educators seek to facilitate for our visitors, but perhaps do not so often see it as a way of developing our own practitioner knowledge. 
Yet as these projects demonstrate, it is an approach that museums large and small can adopt.  Speaking with these colleagues it became clear that time is crucial, alongside the support of their institution more broadly to commit to projects where the outcomes are not entirely fixed at the start.  And the rewards are many, not least because the projects themselves become creative, exploratory spaces where ideas can continually be tested, by programmers and visitors alike.
(The Making Sense Conference is available on You Tube:
Jonte Nynas and Johan Hildingsson's presentation starts at 1:46 minutes)